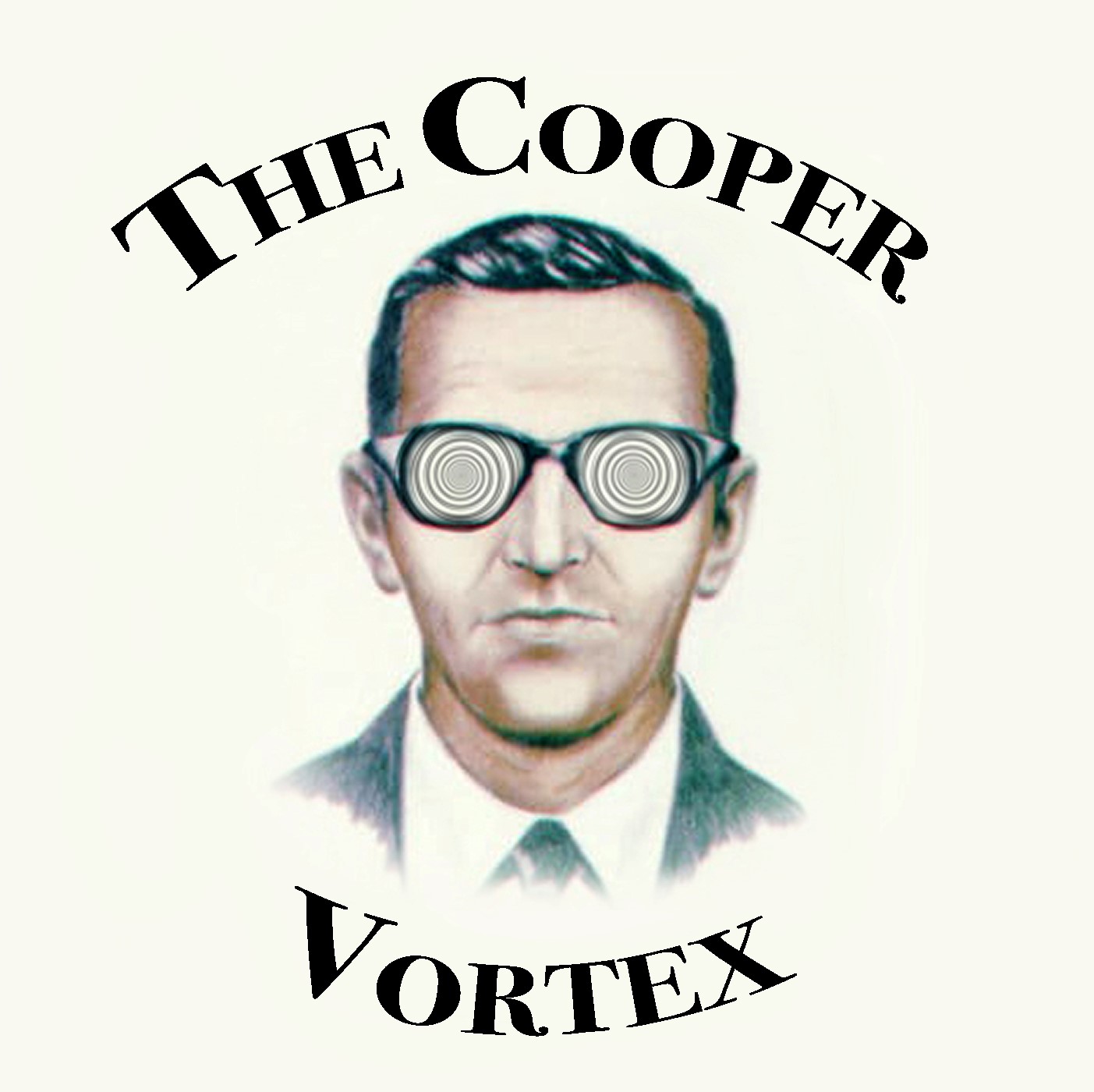 Eric Ulis is the creator and host of the 2019 DB CooperCon this November 22-24th in Vancouver, Washington and Portland, Oregon. He was kind enough to take the time to personally tell us about the upcoming event.
Check out the website for more info!
https://dbcoopercon.com/
The following information is from the website dbcoopercon.com:
Please join us at CooperCon 2019 and hear experts discuss all aspects of America's only unsolved skyjacking. There will also be ample opportunity for audience questions and discussion. Moreover, a special emphasis is being placed upon creating social events this year for people to get-together and have fun over food and drinks.
See a real Cooper $20 bill from the ransom money found, a parachute just like the one Cooper used, a tie clip just like the one Cooper left behind on the jet, and much more. 
Authors will be on-hand to autograph copies of their books.
TICKETS GO ON SALE SEPTEMBER 16, 2019 AND WILL BE LIMITED
PARKING IS FREE!
SPEAKER & PARTICIPANT BIOS
MARTY ANDRADE
Marty Andrade is a Minnesota-based writer who has written four books, including "DB Cooper: Chasing the Last Lead in America's Only Unsolved Skyjacking." A Cooper investigator for over five years, he believes applying sound science and using an interdisciplinary approach will eventually solve the case. Formerly a radio talk show host and podcaster, Marty's current day job is estimating materials for large building projects. An avid lover of mysteries, he will soon be opening investigations in other disappearances and unsolved crimes from his home state.
VERN JONES
Vern is a multi-business entrepreneur with a passion for storytelling and bringing truth to light. A student of the sciences, he has since become an author, publisher, and speaker, not to mention golfer, hiker, scuba diver, water skier, and proud owner of the Portuguese Water Dog named DB Cooper. Vern lives with his wife Irene in Michigan.
TOM KAYE (Video Presentation from CooperCon 2018)
Tom is the Principal Investigator for the Cooper Research Team which was granted unprecedented access to the FBI's NORJAK files for investigative purposes. His main scientific interest is spectroscopy which branches out into the fields of paleontology and astrophysics. In paleontology, he leads yearly expeditions for the Burke Museum to recover dinosaur bones. He is directly involved in the controversy over the detection of preserved blood cells and blood vessels in T. rex bones where his work points to a bacterial source. In astrophysics he leads a team of astronomers that are trying to discover an extrasolar planet using spectroscopy to detect the stars wobble. Recently he has been working on analysis of grave goods from the 8,000-year-old Gobero site in Africa as well as the Chinese Feathered Dinosaurs. Tom resides in Sierra Vista, Arizona.
MARK METZLER
Mark Metzler is an active skydiver with over 50 years of parachuting experience. He holds a USPA class D (Expert) parachutist license which required both night and water jumps. Mark also has extensive experience jumping military surplus parachute gear similar to the type DB Cooper used. In 2006 Mark jumped from the rear airstair door of a DC 9 passenger jet flying unpressurized at 14,500 feet. Mark's diverse career path includes skippering commercial fishing vessels and practicing as a criminal defense attorney. He earned a BSEE degree from UC Berkeley and has designed patented electronic circuits for implantable medical devices. Mark is an aviation history buff who finds air mysteries such as Amelia Earhart's disappearance and DB Cooper's case absolutely fascinating.
DARREN SCHAEFER
Darren is the creator and host of The Cooper Vortex, a podcast covering the many facets of the DB Cooper case and the community created by it. A huge fan of the Cooper Caper, Darren has started to present himself as an expert on the case and so far, most people seem to be buying it. Darren lives with his wife and two children in a 100-year-old farmhouse he's fixing up near Boise Idaho.
BRUCE A. SMITH
Bruce A. Smith is an investigative journalist and the author of DB Cooper and the FBI - A Case Study of America's Only Unsolved Skyjacking. He writes extensively about Norjak at his online news magazine, The Mountain News-WA, and has consulted or appeared on numerous podcasts and documentaries on DB Cooper, most notably the History Channel's "Case Closed?" in 2016, and the Travel Channel's "Expedition Unknown" episode in 2017 on the money find at Tina Bar.
ERIC ULIS
Eric is the author of GHOST: Unraveling The Enigma of DB Cooper. In 2019 his research enabled him to re-identify the 1980 money find spot on Tena Bar. Eric was a commentator and producer on the TV show High Stakes Hold'em which aired nationally on Comcast SportsNet. In addition to the Cooper mystery, Eric is a fan of politics, sports, a good drink and a good cigar. After putting college on hold for "far too long," Eric matriculated at the Extension School at Harvard University. Eric resides in Phoenix, Arizona.
SCHEDULE
FRIDAY, NOVEMBER 22, 2019
START-OF-CONFERENCE SOCIAL :: VON EBERT BREWPUB (DETAILS BELOW)
SATURDAY, NOVEMBER 23, 2019
10:00 AM - 10:15 AM :: INTRODUCTION | ERIC ULIS
10:20 AM - 10:50 AM :: PUBLIC FASCINATION WITH THE CASE | DARREN SCHAEFER
10:55 AM - 11:25 AM :: PARACHUTES & JUMP | MARK METZLER
11:25 PM -12:25 PM :: LUNCH BREAK
12:30 AM - 1:10 PM :: TIE & TIE PARTICLES (2018 REPLAY) | TOM KAYE
1:15 PM - 1:55 PM :: DB COOPER JEOPARDY GAME W/ 3 CONTESTANTS FROM AUDIENCE
2:00 PM - 2:30 PM :: CONSPIRACIES | BRUCE SMITH
2:30 PM - 3:00 PM :: BREAK
3:00 PM - 3:45 PM :: CONVERSATION W/ CAPTAIN SCOTT'S DAUGHTER CATHERINE 
3:50 PM - 4:40 PM :: PANEL DISCUSSION WITH EXPERTS & AUDIENCE
4:45 PM - 5:00 PM :: GIVE-AWAYS & CLOSING
DB COOPER MOVIE @ KIGGINS THEATRE :: DETAILS TBA
END-OF-DAY SOCIAL :: VON EBERT BREWPUB (DETAILS BELOW)
SUNDAY, NOVEMBER 24, 2019
BOAT TOUR TO TENA BAR :: DETAILS TBA
DB COOPER ESCAPE ROOM :: DETAILS TBA
DB COOPER GET-AWAY ROAD TOUR :: DETAILS TBA
END-OF-CONFERENCE SOCIAL :: VON EBERT BREWPUB
CooperCon 2019
Kiggins Theatre
1011 Main Street
Vancouver, WA 98660
Saturday, November 23, 2019
10 AM - 5 PM
Conference Socials
For those interested in talking DB Cooper over a few beers and food, please join several of us at one of our socials.
DATES & TIME
Friday, November 22, starting @ 7PM
Saturday, November 23, starting @ 7PM
Sunday, November 24, starting @ 7PM
LOCATION (About 8 minutes from the PDX hotel)
Von Ebert Brewing
14021 NE Glisan St.
Portland, OR 97230
503.878.8708
NOTE: We are simply reserving space, therefore people are welcome to join the get-together on a first-come first-serve basis. This is a busy time of year, so depending upon the crowd size in the brewpub upon your arrival, you may have to wait briefly to get in.
CooperCon Hotel Partner
Candlewood Suites Portland Airport
11250 NE Holman St.
Portland, OR 97220
(503) 255-4003
The CooperCon room rate is $104 per night (approx. $120 w/ tax). Simply mention you're with DB Cooper.
If you have questions, comments, or if you know who DB Cooper was, you can reach us on Facebook, Twitter, or email us at dbcooperpodcast@gmail.com. We are on Instagram now too @thecoopervortex! If you enjoyed the show please leave us a review.
https://www.facebook.com/TheCooperVortex
https://twitter.com/DBCooperPodcast
Thank you for checking out our show!
Darren Schaefer and Russell Colbert